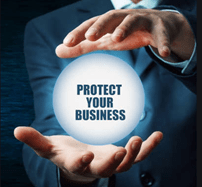 Whether you are just starting your new business, or have been up and running for a while, protecting the business you worked so hard to build is a critical step.
Know what to protect:
Identity thieves may target your:
myGovID
business activity statement
employee's (or employees') personal information
business records containing personal or business information.
How to protect:
·        Protect your myGovID
Upgrade your myGovID with identity documents verification, compared to username and password credential and SMS verification codes;
If you are aware or suspect that your myGovID has been inappropriately accessed, you need to report this immediately by contact support line on 1300 287 539 (option 2).
·         Secure your business premises
Installing physical barriers such as locked doors and windows;
Ensuring you have appropriate alarm systems in place;
Filing documents containing personal and business information in lockable storage units.
·         Secure your systems
Changing all passwords on a regular basis
Ensuring all employees log out of systems and lock computers when not in use
Making sure your computers and other devices have up-to-date security and anti-virus software.
·         Ensure you have internal controls
Performing background checks on new employees
Restricting new employees' access to systems and credentials
Being able to track employees' actions when dealing with sensitive and personal information.
Preventive internal controls in place to stop a fraud before it happens;
Detective internal controls in place to catch a fraud that has occurred.

WBG has more than fifty years' experience in internal control and planning, please contact us if you need any advice for internal control, budget, forecast or tax planning!
Tel: (08) 8410 8999
Address: 15 Beulah Road, Norwood SA 5067
Email: [email protected]